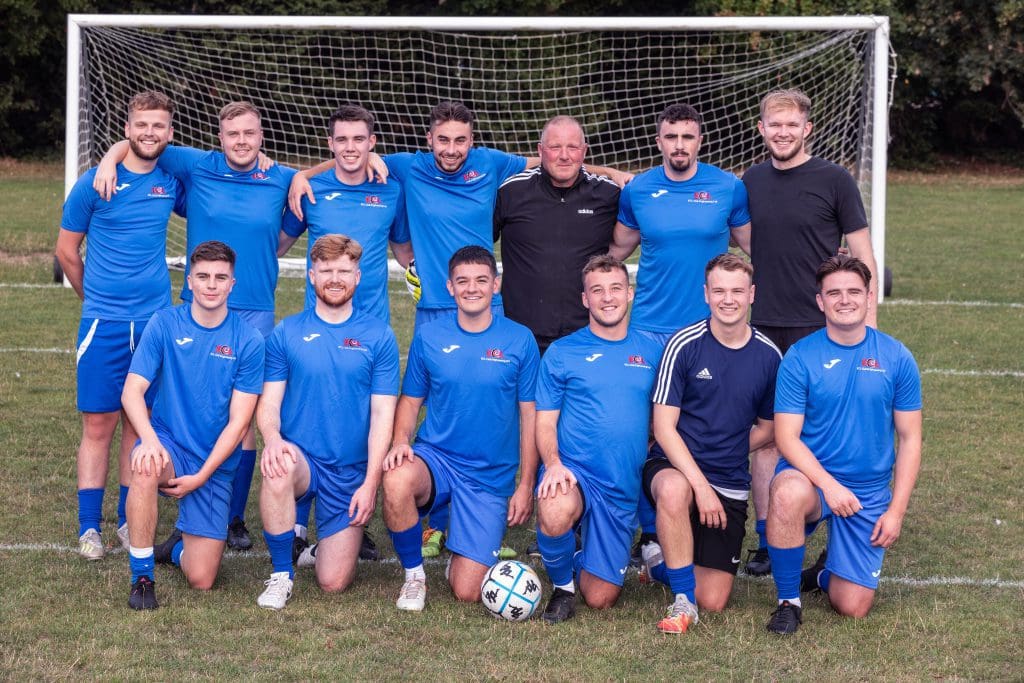 Waterbeach's Epic Beer Festival returned with the meticulous organisation of Waterbeach Colts FC.
The 18th annual event consisted of three days of festivities and fundraising in aid of the local charity Arthur Rank Hospice which started on 2nd September. There was live music, food and beverages and a host of football activities, including the much-anticipated charity football match.
The football match brought together six teams to compete in a round-robin knockout tournament.
Our team this year comprised of Mick McCarey (GK), Jacob Troughton-Smith (C), Daniel Sheridan, James Brennan, Tudor Holt, Alex Moody, Patrick McCafferty, James Sheridan, Liam Doran, Jordan Mongey, Kai McArthur, Olly Daly and Alfie Daly. 
Last year ECL came away with the trophy. So, as reigning champions, the pressure was on. Our players knew the standard of football would be high and that keeping the title would be a hard win. 
James Sheridan scored three quality goals in the first game, sealing a victory over Atsem's Army 3-0. However, ECL's fortune turned in the second game, where the team endured a 3-0 loss against Waterbeach Sunday Men's Team, placing them against Waterbeach Colts FC in the Semi-Final. 
The semi-final saw ECL back on form, winning 3-0 against Waterbeach Colts FC with goals from Patrick McCafferty, James Brennan and James Sheridan, meaning ECL would be back up against the Waterbeach Sundays Men's team in the final.
Credit to the guys; they weren't going to let the previous play against Waterbeach Sunday dampen their spirit. Within the first 20 minutes, ECL scored; Jordan passed the ball to Pat, who swiftly manoeuvred around a couple of players playing the ball back to Jordan, positioned just inside the box. Jordan then struck the ball towards the bottom right corner with a powerful, driven, left-footed strike which left the goalkeeper no chance.
And from then on, even though the rival team played exceptionally well, they could not claim victory as ECL took the trophy home, winning the match by 1-0.
The matches were all hard-fought and made for a spectacular game for the 1000-plus spectators.
Captain Tudor Holt, commented jokingly,
"It was an absolute honour to share the pitch with a great bunch of lads and win such a prestigious cup under the lights on a Friday night. My mum always said I would amount to nothing but take that mum; we won the Waterbeach charity football cup. 
I want to give a special shout to Sean Still for always believing in my ability, whether in football or in the office. One thing that helped us win this cup is that we are not only colleagues, we are also a family, and nothing is stronger than family."
And as victory was sealed, an even more impressive £3k was raised for the Arthur Rank Hospice Charity. 
Founded in 1981, Arthur Rank Hospice supports people living in Cambridgeshire with an advanced serious illness or a life-limiting condition and those in need of end-of-life care.
Elly Ruston from Waterbeach Colts Football Club commented on the day,
"Thank you to everyone who came along to the Waterbeach Colts Football Club Beer Festival. It was our 18th Beer Festival which fell in our 20th year as a club.
It was a superb weekend with brilliant football, great beer and excellent live music.
A huge thank you to those who volunteered their time during the event run-up and over the weekend. It wouldn't happen without you. Big thanks to those who lent us items, especially Waterbeach Scouts, who also helped with the set-up.
Also, a shout-out to our sponsors. Again the festival couldn't happen without you. Thanks to: Albion Decorators, PURE Service, The Playground, Tesco Fulbourn, Tesco Milton and food items donated by Foodwell Vegetable Processors.
Until next year!" 
WCFC is looking for volunteers and sponsors for next year's Beer Festival. If this interests you, please message 07986 340 869 or elly.ruston@gmail.com.