As the UK sets ambitious carbon emission reduction targets, the onus is on all sectors of the industry to look at ways in which they can reduce their carbon footprint.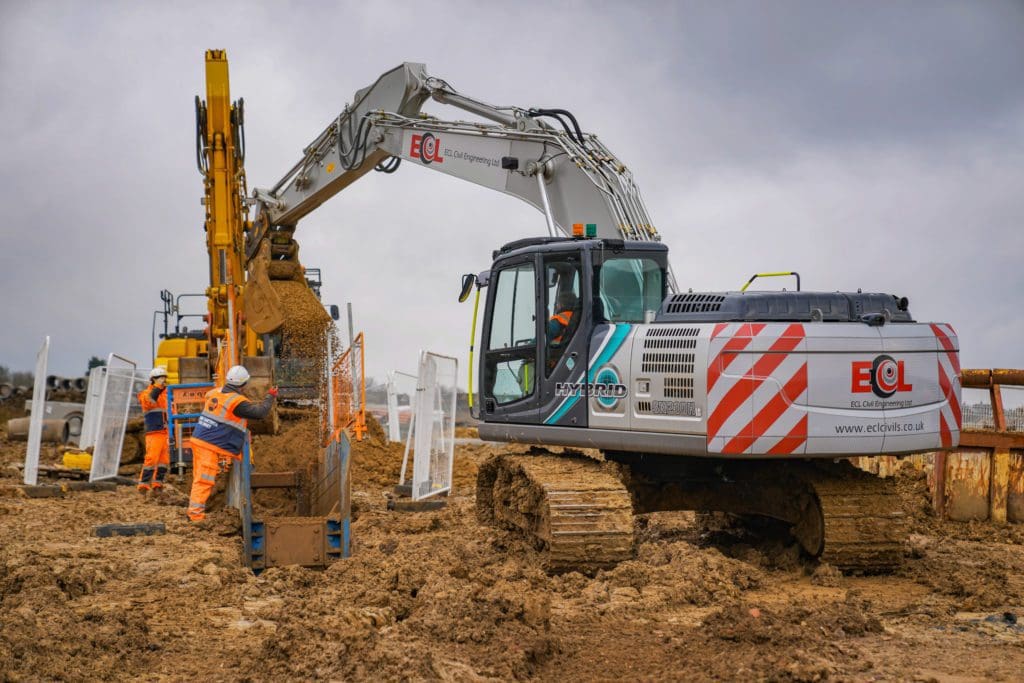 Leading Civil Engineering firm, ECL, have been on a journey with their mobile plant supplier, Molson Equipment, to dramatically reduce the environmental impact of their fleet.
Its focus to reduce emissions by 78% by 2035 compared to 1990 levels, is one of the world's most bold climate change targets and is part of the governments bid to reach net zero carbon emissions by 2050.
The construction industry has a huge impact on the UK's overall emission levels. According to a study by government industry support group, Innovate UK, the construction, operation and maintenance of the built environment accounts for 45% of total UK carbon emissions.
It is imperative that the industry looks at every opportunity to reduce its impact on the environment sooner rather than later, not just because these targets are enshrined in law but also because our environment demands it.
Molson has taken on the move to reduce and eliminate carbon dioxide emissions where possible and as part of its 'Green Agenda', has been working alongside customers such as Bedfordshire based civil engineering and groundworks contractor, ECL, to try and help reduce the total carbon emissions and environmental impact of their plant fleet.
As a longstanding customer, the ECL team has looked to rationalise its mixed machine fleet, which boasts more than one hundred excavators of various sizes and capabilities.
When Molson first began working with ECL it soon became apparent that as a part of its social responsibility there was a determination to set in motion a process that would ensure a reduction in the firm's carbon footprint.
That determination mirrored Molson's own burgeoning commitment to ensuring it works to the highest environmental and sustainable standards achievable. Both firms realised that by working together they could help one another reach beyond their initial individual goals to become environmental leaders in the construction plant sector.
It is a journey that the two companies are taking in tandem and from the first tentative steps, that relationship is developing into a movement that could prove to be a game-changer for the sector.
Initial discussions were around replacing the older units in its fleet with more fuel-efficient Kobelco machines. On average a 20t machine uses around 18 litres of fuel per hour and runs for 1000 hours each year. With carbon dioxide emissions weighing in at over 2.5kg per litre of diesel, the advantages in replacing those ageing machines with Kobelco excavators is obvious.
By taking on one of the most fuel-efficient excavators on the market (the Kobelco SK210LC-10E with a fuel economy of around 10 litres per hour), to replace the 40 or so 20t machines in its fleet, the ECL team has already taken a step forward in reaching its carbon footprint reduction goal.
Merely by swapping its fleet to the fuel-sipping Kobelco brand, it stands to save around 8 litres of fuel per hour on each machine (around 8,000 litres each year). Multiply that saving out across their fleet now standing at over 200 Kobelco excavators, the savings in fuel and carbon emissions become truly significant.
And with the UK Government ready to restrict the entitlement to use red diesel and rebated biofuels from April 2022, that benefit becomes an obvious financial gain too.
But the ECL team has not been content with just making these initial great strides. It has pushed the environmental boundary by beginning the rollout of Kobelco SK210HLC-10E hybrid excavators, machines that offer even better fuel performance and a smaller carbon footprint because of it.
The new Kobelco machines feature a lithium battery that powers the electric swing motor as well as assists the engine during heavy operation. This helps reduce the load on the engine as well as improve fuel efficiency.
The lithium-ion battery uses the braking energy generated during deacceleration to recharge itself, giving power availability as the swing accelerates.
Such is the power of this battery that it can add as much as 25kW to the output of the engine during high-load operation (the equivalent additional power output to that of a 5t excavator engine). This power is then recharged through the generator motor during low-load operation.
And with a warranty period for the battery, swing motor, generator motor and inverter of the hybrid system of 5 years (or 10,000 hours), it is a system that is guaranteed to stand the test of time. Time which is in short supply if the UK is to hit those tough environmental targets.
Steve Wright, Plant Manager at ECL said, 
"This isn't a forced decision for us. Our move to more environmentally friendly, more sustainable, lower carbon technology is one that we want to make ourselves. As a responsible business, we want to do whatever we can to reduce our carbon footprint. 
It is not a mandatory requirement; we just feel that we should look at every opportunity available to make our business as environmentally responsible as it possibly can be. 
We have been working on this carbon reduction strategy with Molson for a few years now. It's an interesting journey for both our businesses and I am sure there will be more developments along the way. We have found the knowledge and high levels of service from the Molson team invaluable."