When they're not head down in the office, Ryan Neufville, Buyer and Pat, Senior Quantity Surveyor, are dominating it on the pitch, playing the Football Sunday League for St Joseph's (St Joes), a Bedfordshire-based club.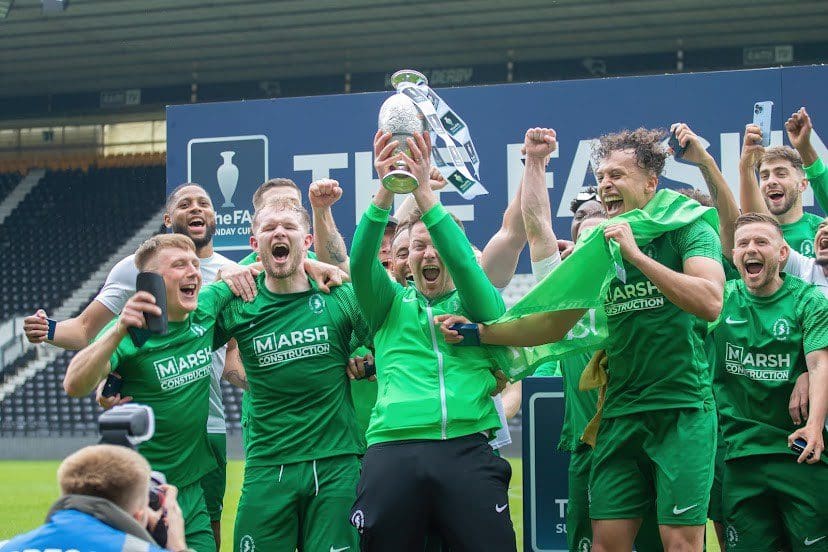 This year the team has won 5 trophies, including the prestigious FA National Cup, where St.Joseph's was crowned winners after securing a 3-2 win over Aigburth Arms in a thrilling Final at Pride Park.
The team showed true character, as Aigburth took the lead in the first half, St. Joes worked well under a short period of pressure and scored to make it level with a direct ball into the area, picking out our very own Patrick McCafferty unmarked, as he lashed the equaliser into the goal to ensure the teams were all square at the break.
St. Joe's then took the lead after a low shot into the bottom corner.
And it looked as though extra time was on the cards when Aigburth Arms won a penalty in the second minute of stoppage time following a handball. The penalty effort hit an awkward rebound into the bottom corner.
But St. Joe's weren't finished, and with the celebrations at one end barely over, they slipped through another goal in the final moment to win the game in dramatic fashion and deny Aigburth what would've been their first Sunday Cup title.
For St. Joseph's, it's a first Sunday Cup title since 1996 and ends a run of three defeats in the Final since then.