Last year's fundraising monies for the Bedfordshire Food Bank were put to fantastic use when Kirstie Smith and Claire Stacey hit the supermarket to buy needed items for the charity, which resulted in 5 shopping trolleys of food purchased with the £441.52 money raised.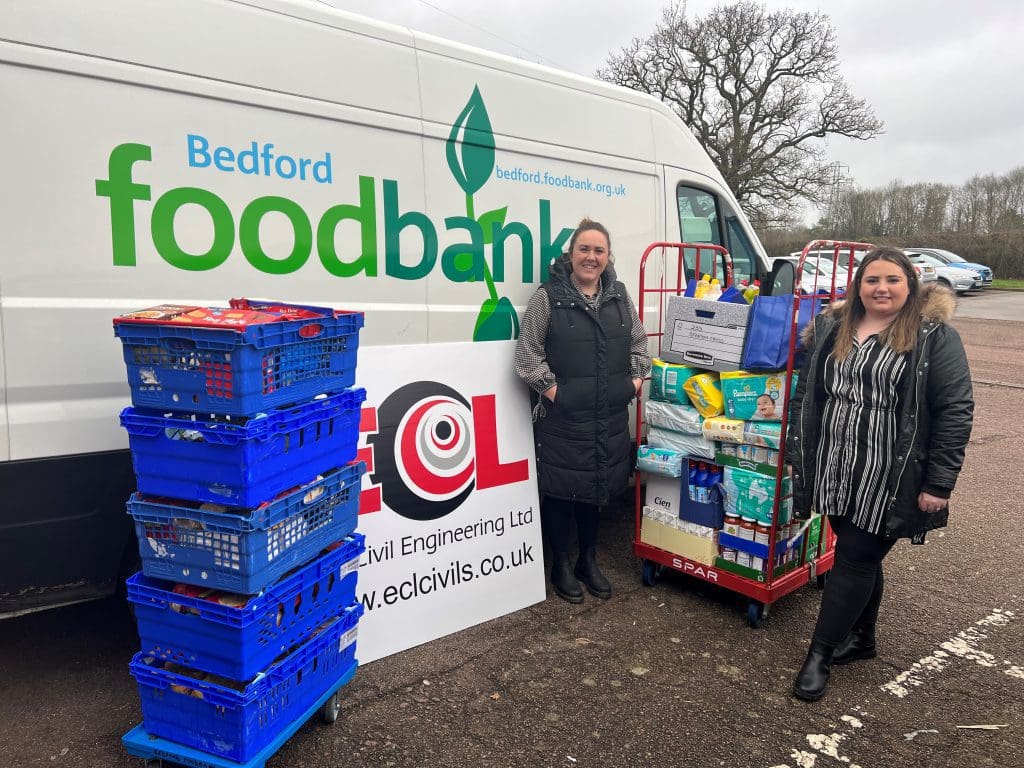 Thanks to the organisation of Kirstie and Claire and everyone who donated either money or perishable items last December, the team were able to contribute 289.74kg of food, which in turn will make 689 meals and a BIG difference to local people in crisis.
Neil Hiscocks, Assistant Project Manager Bedford Foodbank, expressed his thanks, saying;
"Many thanks to everyone at ECL Civil Engineering who donated 289.74kg of food to Bedford Foodbank, which will provide 689 meals. This will be critical in replenishing our shelves as we currently give out 17 tonnes each month.
We are always very grateful for any donations we receive, never more so than in these challenging times. Regular donations, such as yours, are vital to the on-going provision of food for those in our community who are in such great need.
The need for help from the Foodbank continues to increase year upon year and we now regularly feed around 1800 people a month, giving them enough food for 3-4 days, or around 10 meals. The monthly food leaving our warehouse is generally in the region of 18 tonnes, so we value all donations we receive, as each one is vital for the on-going work of the Foodbank, and is greatly appreciated.
During 2022, 185,079 tonnes of food were given out, 8644 vouchers were redeemed, and 19628 people were fed, of which 6813 were children. Without the support of individuals, organisations, and communities, Bedford Foodbank could not meet the increasing need in Bedford and the surrounding villages.
Thank you all once again, for your support on behalf of everyone who uses, works, or volunteers at the Foodbank. "