WOMEN IN CONSTRUCTION, A POSITIVE CHANGE FOR CONSTRUCTION
Here we talk to Claire Stacey, who gives us an insight into how she ended up being a woman in construction and tells us a bit more about her.
Claire, who started working for ECL in February 2020, came to us from Costain Ltd, where she was the Health, Safety and Environmental Advisor working on the A14 Cambridge to Huntingdon Improvement Scheme.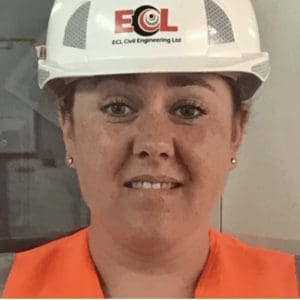 Hi Claire, can you tell us about your current role at ECL and your primary responsibilities?
I am an HSEQT Advisor, which means that my responsibilities include the production of RAMS and statutory documentation. It also includes the completion of both weekly and fortnightly site advisory and audit inspections, along with the completion of company inductions and the provision of guidance and support to the company regarding all aspects of Health and Safety.
Is the role as you imagined it to be?
It's better! I have a supportive and approachable Line Manager, and I work with a good team of people I can always speak to when I am unsure of something or need some help.
Every day is different, meaning that each day brings new challenges. However, I also get to spend my days helping people to work safely and ensuring that they go home to their families at the end of it.
What were your first impressions of ECL?
They have an excellent safety culture that they constantly strive to improve. So when I moved here, I instantly felt like part of the wider team and not just the department I work in.
What has been your favourite project to have worked on? And your least favourite?
My favourite would have to be the Cambourne Infrastructure project at ECL, which was the first project at ECL that I was involved in from the start. It brought some challenges due to the size of the project and the number of people involved, and sometimes those challenges were demanding. Luckily, I have an excellent team around me, and we worked together to figure them all out, which gives me pride in what I do. And what's nice about this project is that I will get to see it through from the very start to its completion.
I don't have a least favourite project, and that's mainly because if there were a project that wasn't going so well, I would see it as a challenge that I could sink my teeth into and help turn it around.
What type of work do you enjoy?
Before working for ECL, I had never really written Construction Phase Plans or RAMS. However, since moving here, I have had the opportunity to learn about how to write these. I really enjoy getting all the information together, researching how things are completed, and writing the documents. It passes the time nicely as I am learning something new all the time.
As a woman, you're in a traditionally male-dominated industry.  Do you feel that women in construction can add something more to the role?
Absolutely, I think women in construction can add another dimension to a construction site. I think that being a woman helps the men on site to be more open in discussing topics that they wouldn't necessarily feel comfortable discussing with another man. It helps the men trust me with not only work issues but also any issues they may have in their private lives that could affect how they come to work. Finally, it helps to build a good working relationship. I'd love to see more women in construction.
How do you feel that you can add real value to your job?
I am very passionate about my job, and I believe that I can help people really make a difference when they are at work, ensuring that their lives are safe on-site from the minute they arrive to the minute they leave at the end of the day.
I am also a team player, and I am always willing to help other people when needed. I try to be approachable, always letting my site managers and operatives know they can contact me with any issues they have or need help with. This has helped hugely when it comes to operatives now contacting me directly if they are unsure of something on-site, instead of just getting on with things and something potentially going wrong.
What have you noticed about ECL that sets it apart from the other companies you worked for?
They care about doing the right thing and try their hardest to do that. There isn't someone saying, 'Don't worry about it. Just crack on and do it. So it's refreshing to hear managers and senior members of the business say, 'Let me contact the safety team and ask for their advice.
At other places I've worked, my mobile phone hardly rang. But here, it rings a lot, and that's a nice feeling.
What are your career plans?
I want to continue learning more about RAMS production and how specific tasks on site are completed. Especially tasks that ECL may not have done before. I would also like to complete my NEBOSH Diploma in Occupational Health and Safety, hopefully leading to an H&S Manager role in the future.
And can you tell us a little bit more about the Claire outside of work?
I am originally from Manchester but moved away from there at sixteen to join the Army. This allowed me to travel the world and see some fantastic places and some very poverty-stricken and war-torn countries. I have been married to my husband for seven years now and spend my personal time playing netball in the Bedfordshire Netball League, as well as long-distance running and going on countryside walks with my adorable but stupid dog Boris.
And outside of your professional life, who or what do you find inspiring? 
Marcia Clark. She was the prosecutor in the OJ Simpson vs The People case, which was for the murders of Nicole Brown and Ron Goldman.
She was sexually assaulted at a young age and heavily criticised during the very public trial for the way she dressed, her hair, her accent, and the fact that she was a working mum. She was also criticised for her tone of voice during the trial, as around that time, some people thought that women should not be allowed to be in high-profile positions or to be able to state their opinions.
Despite all this, she became a very successful author, a New York Times bestseller, and frequently provides TV coverage for high profile trials, proving that she battled to be as successful as she could despite everything thrown at her.
And finally, what does your future at ECL look like?
Challenging, exciting and fun!
Thank you, Claire, for featuring in our women in construction post.
We hope you carry on enjoying the challenges that your role brings.
Want to meet more of the ECL Team?