Construction Site Uses Solar Power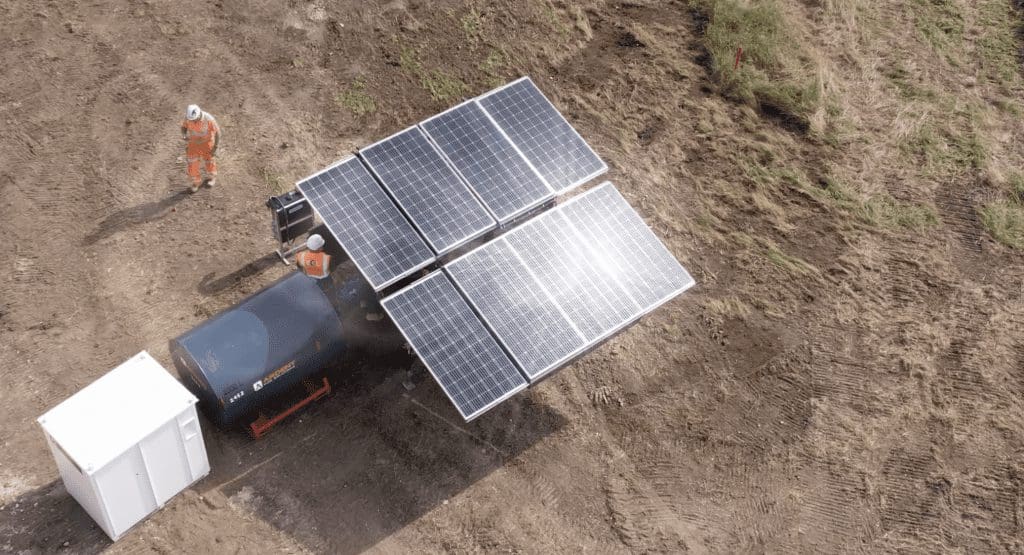 One of the greatest challenges the construction industry faces today is reducing its environmental impact.
As we as a company work towards sustainable practices, we are embracing renewable energy solutions to help reduce our environmental footprint.
In August 2022, Our Head Office operation was switched to a 100% renewable energy tariff with relative ease, but for our construction sites, the solutions out there are not so straightforward.
With grid access unattainable, energy to power our compounds is still heavily dependent on diesel generators, and we recognise we need to transition to cleaner, more sustainable alternatives.
HVO fuel has long been discussed as a solution to this problem. Still, with concerns over costs and provenance of its supply (negatively affecting changes to land use, like deforestation, in favour of energy-crop cultivation), the question is, will this create a net gain in emissions?
Last year, we trialled solar-powered pods at several of our construction locations. This hybrid solution uses as much renewable energy as possible to power a compound and minimise reliance on diesel fuel.
We're pleased to report that the trials have been hugely successful in significantly reducing our construction site's pollutants and greenhouse gas emissions associated with diesel generators. As such, we are rolling out the installation of hybrid solar power generators on our large strategic developments in collaboration with clients, who are equally invested in building modern communities whilst driving sustainable construction practices.
With the Staple Lane, Middlebeck project due to start on 21st August, we wasted no time installing the hybrid solar generator in readiness for the commencement of works.  
Hats off to Ardent Hire, who expertly managed the transportation and installation of the pod. Within a couple of hours, the Ardent guys had the solar generator up and running with the assurance that our Middlebeck site would have a continuous power supply.
As the generator's solar panels projected skywards, the almost silent running of the machine was a sharp contrast to the noise we're used to hearing from our traditional diesel generators.
Undoubtedly, this reduction in noise will create a quieter and more focused work environment for the team at Middlebeck and contribute to a better relationship with surrounding local communities.
With reduced project carbon emissions and costs associated with diesel supply, the Middlebeck site has already started on the best foot. This project will ultimately contribute to a cleaner and healthier environment.