Can you spot the 13 Safety Hazards Below?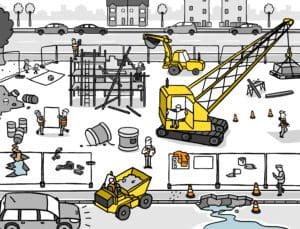 Take part in ECL's Health & Safety awareness competition and have a chance to  WIN A £100 AMAZON VOUCHER

Why not take part in ECL's Spot the safety hazards competition! You may just win a £100 Voucher.
There will be two separate prize draws for this competition, one for the general public and one for ECL employees, so everyone is welcome to enter. And each winner will receive an Amazon voucher worth £100!
To enter, all you need to do is prove your health and safety knowledge by finding each of the safety hazards on the image above and spotting where Sean (our Director Sean Hoare) is hiding. 
How to Submit your Entry?
To submit your entry you need to…
STEP 1 – Complete the form below
Fill in our competition form below and upload a photo of the picture with the hazards you've spotted clearly marked out.
STEP 2 – Follow us on Instagram
You'll also need to follow our Instagram account https://www.instagram.com/ecl_civils/ where we will announce and contact the winners.
The winners will be announced in November 2021, so make sure you get your entry submitted in good time.
This competition is a fun way to approach a very serious topic which we never take lightly.
Click here for the full terms and conditions of the competition.
Good Luck 🙂